Peter G. Smith
---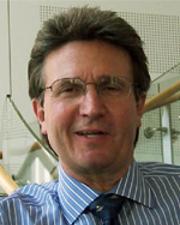 Senior Associate Vice Chancellor for Research
Senior Associate Dean for Research, School of Medicine
Wineinger Endowed Professor, Molecular and Integrative Physiology
Biography
—
Nerves regulate function and structure of peripheral cells. Target cells in turn provide molecular signals that govern the quantity and type of innervation they receive. Our research examines this interplay between nerve and target and the factors that govern neuronal growth and degeneration.  We are especially interested in how this relationship is affected by gonadal steroid hormones such as estrogen.  Ongoing projects examine mechanisms and consequences of neuroplasticity in peripheral tissues including: reorganization of cardiac innervation following myocardial infarction, which may contribute to sudden cardiac death; estrogen-induced remodeling of innervation of the reproductive tract; mechanisms by which nerve projections are pruned under normal and pathophysiological conditions; and the role of estrogen in the etiology of female pain syndromes.
Selected Publications
—
Tague SE, Smith PG. Vitamin D receptor and enzyme expression in dorsal root ganglia of adult female rats: modulation by ovarian hormones. J Chem Neuroanat. 2011 Jan;41(1):1-12. 
Clarke GL, Bhattacherjee A, Tague SE, Hasan W, Smith PG. ß-adrenoceptor blockers increase cardiac sympathetic innervation by inhibiting autoreceptor suppression of axon growth. J Neurosci. 2010 Sep 15;30(37):12446-54. 
Chakrabarti S, Svojanovsky SR, Slavik R, Georg GI, Wilson GS, Smith PG. Artificial neural network--based analysis of high-throughput screening data for improved prediction of active compounds. J Biomol Screen. 2009 Dec;14(10):1236-44.
Walters E, Rider V, Abdou NI, Greenwell C, Svojanovsky S, Smith P, Kimler BF. Estradiol targets T cell signaling pathways in human systemic lupus. Clin Immunol. 2009 Dec;133(3):428-36. 
Mathur S, Visvanathan M, Svojanovsky S, Yoo B, Srinivas AB, Lushington GH, Smith PG. GOAPhAR: An Integrative Discovery Tool for Annotation, Pathway Analysis. Open Bioinforma J. 2009 Jan 1;3:26-30. 
Wernli G, Hasan W, Bhattacherjee A, van Rooijen N, Smith PG. Macrophage depletion suppresses sympathetic hyperinnervation following myocardial infarction. Basic Res Cardiol. 2009 Nov;104(6):681-93. 
Hasan W, Smith PG. Modulation of rat parasympathetic cardiac ganglion phenotype and NGF synthesis by adrenergic nerves. Auton Neurosci. 2009 Jan 28;145(1-2):17-26.
Smith PG, George M, Bradshaw S. Estrogen promotes sympathetic nerve regeneration in rat proximal urethra. Urology. 2009 Jun;73(6):1392-6.